The SteadyMouse Project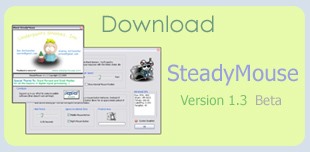 SteadyMouse is software designed to assist people with the hand tremors that commonly go along with Parkinson's disease, Multiple sclerosis, etc.

Major Features:
Anti-tremor mouse filtering to remove Essential Tremor from your cursor.
Automatic blocking of unintentional mouse clicks.
Assistive "Icon Targeting" system to get your cursor where it was trying to go.
Quick enable / disable toggle using the scroll lock key.
September 8, 2016 - After many sleepless nights, the completely redesigned SteadyMouse 2.0 professional release is almost ready for launch! Hang tight...

September 12, 2016 - The beta version has rolled out to the first volunteer tester! Come join us as the initial results come in at the beta testing thread here on /r/steadymouse.