The SteadyMouse Project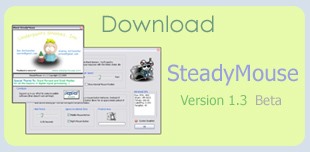 SteadyMouse is free software designed to assist people with the hand tremors that commonly go along with Parkinson's disease, Multiple sclerosis, etc.

Major Features:
Anti-tremor mouse filtering
Removal of accidental mouse clicks
Assistive "Icon Targeting" system
Quick enable/disable using the scroll lock key
February 9, 2016
Problems with SteadyMouse 1.3 on Windows 10 have been reported by several users. In some cases the cursor freezes and SteadyMouse has to be disabled (via scroll lock) or closed. You are welcome to try it anyways, however it is recommended that during installation the option to "startup with Windows" be unchecked. Worst case you can reboot and SteadyMouse will remain off. The issue is fixed in the upcoming version however there's still much to do before it's ready for release.