Discover SteadyMouse 2
The latest and greatest
Eleven years since inception, and thousands of hours along the way, SteadyMouse 2 is software designed from the ground up to give you back smooth sailing with your mouse again. Advanced anti-tremor filtering is in place to remove the shaking hand motion of Essential Tremor and to let you focus on things that matter.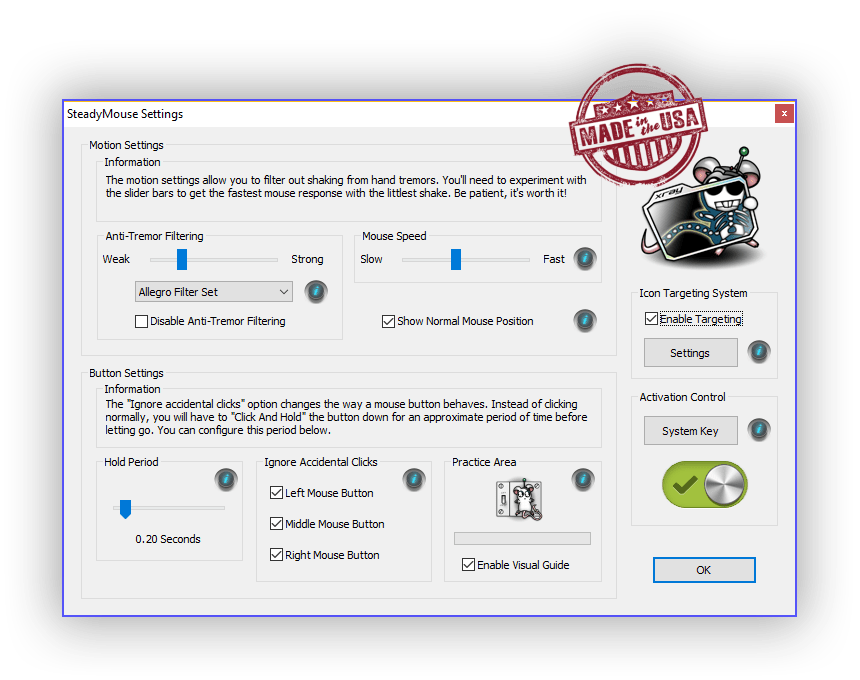 Very often, once the settings are dialed in, the restoration of control breaks a psychological feedback loop and customers find their hand tremor lessened while using SteadyMouse. They know deep down that the tremor cannot get through and this changes the nature of the interaction in a significant way. In any event, whether you fall into that category or not, the days of fighting with your cursor are about to end. Come have a look.
---
Features Include:
Advanced anti-tremor filtering for your mouse so that while your hand may shake, your cursor will be smooth and steady like the old days

Seven advanced motion filter sets, including the classic set from SteadyMouse v1.3, so you can find the perfect fit for removing your hand tremor

Automatic blocking of unintentional clicks of the left, middle, and right mouse buttons

Rapid clicks and super long clicks are ignored and it's as if they never happened!

Come have a look! In this example the user is right clicking the desktop, both accidentally and then intentionally.

Compatiblity with all types of mice, including trackpads, wireless mice, roller ball mice, laptop touch pads, etc.
Multiple monitor support (up to 32 displays)

A much improved icon targeting system to rapidly snap your cursor to what you were aiming for

Multiple language support (Interested in adding your preferred language? Click here for details.)

Configurable toggle key(s) for turning everything on and off in an instant ("Scroll Lock" is the default)

Freedom to install and activate on all of your personal computers for personal use (Maximum of 30 activations, see the EULA for details)

An elegant visual indicator system to give you just the right cues for tuning, clicking, and aiming
Full access to future bug fixes and minor version updates (The high end license additionally includes major version updates)
Compatibility with Microsoft Windows 10 all the way back to Windows XP (Both 32-bit and 64-bit editions)

Built-in ability to check for updates, so you always have easy access to the latest version under in your license category
Remote desktop compatibility (TeamViewer, RDP, etc.)
Full implementation in software so there's no need to change any physical hardware. Your existing mouse will work great!
A download link is provided immediately upon purchase, so you'll be up and running in short order.
---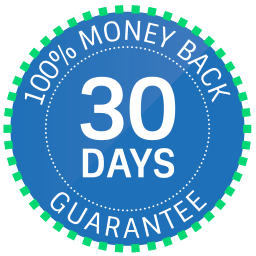 I'm confident you will be impressed and I stand behind my product. If for any reason you are not completely satisfied during the first 30 days after purchase, simply email me for a full, no hassle, refund. I can be reached easily and directly at ben @steadymouse.com. You get to install, activate, and try out all of SteadyMouse with that assurance.
Choose the option that suits you best!
Access to all major versions, present and future, is $127 USD and will save you long-term since you never pay again. You receive everything as it comes out in the years ahead.

Access to the current single major version is $43 USD and saves you a bit in the short term or if you never intend to upgrade.
Please note that some countries may add tax at checkout. Also, all options include minor updates and bug fixes.
New major versions come out approximately once or twice a year. You can read more here on how SteadyMouse versioning works.
After you're all squared away, come join the community of fellow users at the forum, /r/steadymouse
We can help each other with fine tuning, tips, and ideas. I'll be there too.

Cheers,

Ben Gottemoller
Founding Member
SteadyMouse, LLC.

P.S. If you're struggling to make ends meet, send me an email here explaining the situation and we'll work something out. My first priority is helping folks out.
SteadyMouse 1 - The Old and Free Classic Version
(Released from 2005 - 2006)
SteadyMouse 1 was released in 2005 - 2006 and held up well for many years. Lots of users still like it and it works great on Windows 2000 through Windows Vista. Unfortunately, Windows 7, 8, 8.1, and Windows 10 had a lot of issues. The massive, multi-year rework for SteadyMouse 2 above was to fix all of that.
The free version is not going anywhere, and despite its age is still clipping along. It's decent software and you're welcome to try it out and have a glimpse of what this technology, even in its infancy, can do. The download is about 9 times smaller than the new version so you'll save a little bandwidth too.
Please be aware of a few known limitations and issues before you try the free version:
Does not support ignoring accidental *left* clicks as the method had not been invented yet.
On Windows 7, 8, 8.1, and 10 the cursor sometimes goes crazy and flies off the screen. The process has to be killed to get it back. This especially occurs when desktop scaling is enabled.
On computers with a touch screen, the cursor does not restore properly when transitioning from touch input back to mouse input.
When restoring the PC from sleep, the cursor sometimes goes missing.
Anti-tremor filtering does not work with multiple monitors and the cursor is effectively locked to the primary display.
The filtering is laggier and less advanced, so please know that it only gets better from here.
Icon targeting only works on the primary display and only finds a small number of target types.
The "Scroll lock" key, being the only SteadyMouse on/off toggle-key, interferes with programs like Excel.
Language translations are not supported.
On some computers the settings panel opens every single time Windows starts up.
The filter adjustment slider bar hops and skips when being moved by the mouse. This is due to filter reset.