Discover SteadyMouse 2
The latest and greatest
Sixteen years since inception, and thousands of hours along the way, SteadyMouse 2 is streamlined software, designed from the ground up to give you smooth sailing with your mouse again. Advanced anti-tremor filtering is in place to remove the involuntary shaking motion of tremor and to let you focus your time and energy on other things.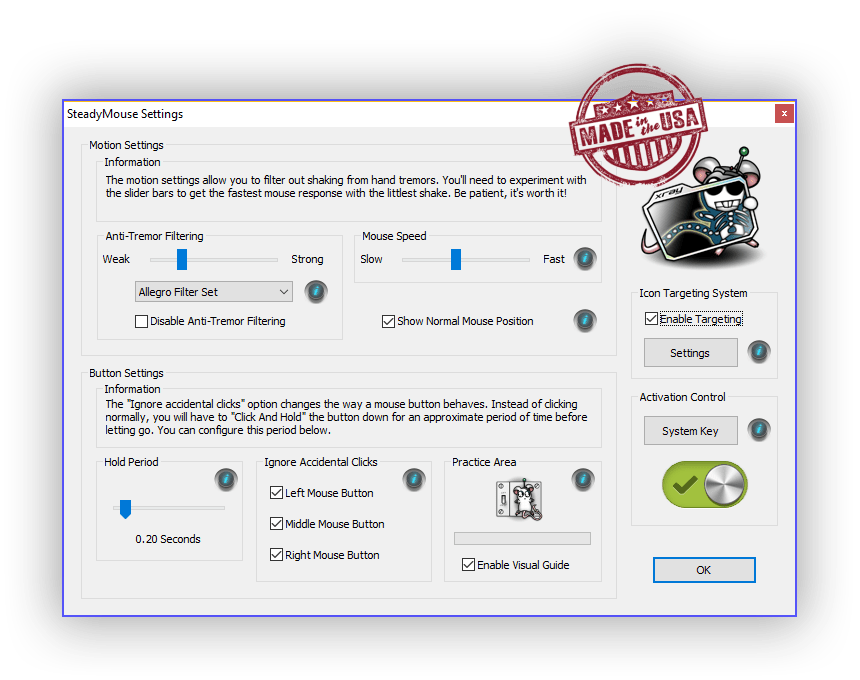 More often than not, once the settings are fine tuned, the restoration of control breaks a psychological feedback loop and customers find their hand tremor lessened while using SteadyMouse. Knowing that the tremor cannot get through provides a sense of relief that changes the nature of the interaction in a significant way. Whether you fall into this category or not, the days of fighting with your cursor are about to end. Using your mouse does not have to be exhausting anymore. Come have a look!
---
Features Include:
State of the art Anti-Tremor Filtering so that, while your hand may shake, your cursor will be smooth and steady like the old days.
Seven advanced motion filter sets, including the classic set from SteadyMouse v1.3, so you can find the perfect fit for removing your tremor.

Automatic blocking of accidental clicks of the left, middle, and right mouse buttons. Only the intentional clicks, just a tad bit longer than the accidental ones, are allowed through.

Rapid button clicks and overly-long clicks are ignored and it's as if they never happened!

Come see! In this example the user is right clicking the desktop, both accidentally and then intentionally. At first, too short. Then too long! Finally, just right and you see the menu appear!

Compatiblity with all types of mouse devices, including trackpads, wireless mice, roller ball mice, touch pads, laser mice, etc.
Multiple monitor support (up to 32 displays)
A much improved icon targeting system to rapidly snap your cursor to what you were aiming for. Just get close enough and tap the trigger hotkey!
International language support for English, Danish, Dutch, French, German, Italian, Portuguese, Russian, and Spanish.

A system wide toggle key for turning everything on and off in an instant, from anywhere!

The "Num Lock" key is the default setting.

Wish to toggle on or off? Simply press and release the toggle key!

Freedom to install and activate on each of your personal computers for personal use (Limit 30).

Quickly accessible settings available via the little mouse icon tucked away in your notification area.

Full access to future bug fixes and minor version updates. The high end license additionally includes major version updates.
Compatibility with Microsoft Windows 11 and prior versions all the way back to Windows XP.

Built-in ability to check for updates, so you always have easy access to the latest version under your license category.
Fully accomplished in software so there's no need to change any physical hardware. Your existing mouse will work great!
A download link is sent to your email immediately upon purchase, so you will be up and running in short order.
---
What Customers Say!

...Almost without realizing it, as I went back to work my mouse was working normally again. The shaking mouse cursor and accidental multiple double clicking had disappeared. What a relief. Albert J. Bick, CPA
...Last week, he [my boss] and I were working on a document together and he was at the keyboard while I sat alongside, so I had the opportunity to watch him use the mouse. What used to be an excruciating long process was smooth, accurate, and much faster. I can only imagine how frustrating mousing must have been for him when it was hard to control. SteadyMouse has made a huge difference. KAL, Washington DC
My dad is a very serious photographer [...] I installed this on the computer and I cannot express how much it has lifted his spirits. He is genuinely delighted and thankful to be able to easily use the computer and Photoshop again. Seth Hardiman
---
As the founder of SteadyMouse, LLC. I am confident you will be impressed and I stand behind my product. If for
any reason
you are not completely satisfied during the first 70 days after purchase, simply email me for a full, no hassle, refund. I can be reached easily and directly at
ben
@steadymouse.com
You get to install, activate, and try out all of SteadyMouse with that assurance, and we'll send you a reminder email around day twenty-five so you don't forget to make a decision.
Choose the option that suits you best!
SteadyMouse 2: Access to just the current version is $43 USD and saves you a bit in the short term, or if you never intend to upgrade to SteadyMouse 3, 4, 5, etc. when they come out.

SteadyMouse X: Lifetime access to all major upgrades, present and future, is $127 USD and will save you long-term. You automatically receive every new version as it comes out in the years ahead.
Minor updates come out a few times a year, while major ones are at longer intervals, approximately once a year. You can learn more about SteadyMouse versioning here.
After you are all squared away, come join the community of fellow users over at the online forum. We often help each other there with fine tuning tips, feature requests, and improvement ideas.

Cheers,

Ben Gottemoller
Founder
SteadyMouse, LLC.

P.S. If you are struggling to make ends meet, send an email to financialaid-essential-tremor-filtering@steadymouse.com explaining the situation and we'll work something out. Our first priority is helping people.